Objectives
The Group promotes absorption and fixation of carbon dioxide by supporting sustainable forest management including expandingforest plantations and preserving company-owned forests to contribute to achieving an 80% GHG reduction by 2050, the long-termtarget set by the government of Japan.
Status of Domestic a Company-Owned Forests and Overseas Forest Plantations
The Oji Group maintains and manages a total of 440,000 hectares of production forests* (an area twice the size of Tokyo), including 250,000 hectares of forest plantations overseas, and 190,000 hectares of company-owned forests in Japan. It is no exaggeration to say that forest resources are the foundation of the paper manufacturing industry. The stable supply of these resources as raw material for paper manufacturing and as fuel for biomass power generation is a central pillar of the Group's businesses. In the future, we also aim to provide a stable supply for wood fiber-derived new materials, such as the cellulose nano-fiber (CNF) and biomass plastic currently under development.
The Group spends approximately 11.0 billion yen annually for ongoing forest management in order to practice sustainable forest management.
*

Production forests: forests primarily for producing forest products in consideration of environmental conservation.
Status of CO2 Absorption and Fixation
Forests absorb CO2 in the atmosphere and perform photosynthesis, storing and fixing the carbon trunks, branches, and so on. Approximately 12 million tons of CO2 is absorbed each year in conjunction with the growth of the Group's 440,000 ha of forests in Japan and overseas, and timber equivalent to this absorption amount is sold inside and outside the Group and used internally for lumber products. The Group's domestic and overseas forests have now fixed a total of 121 million tons of CO2, achieving 71% of the 2030 target.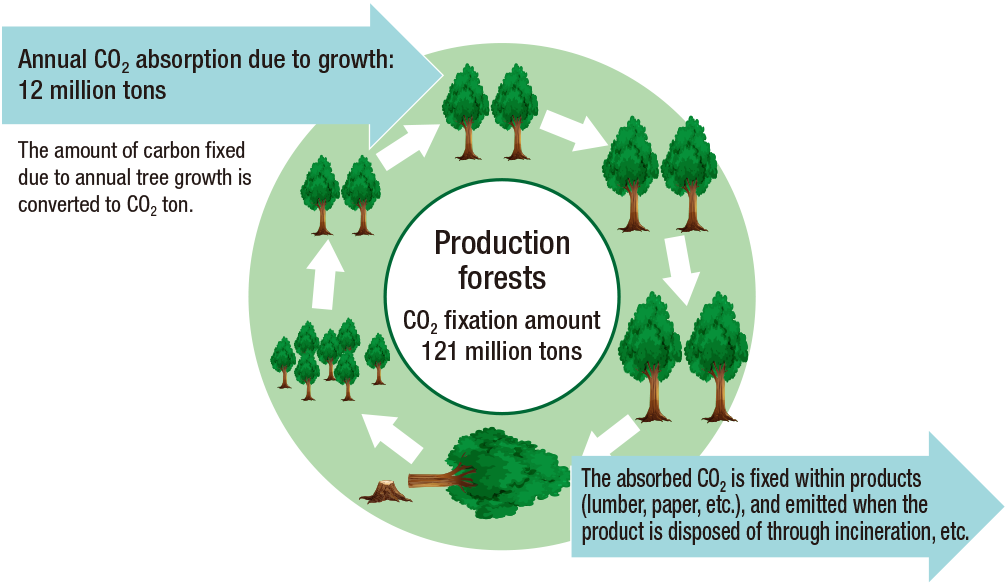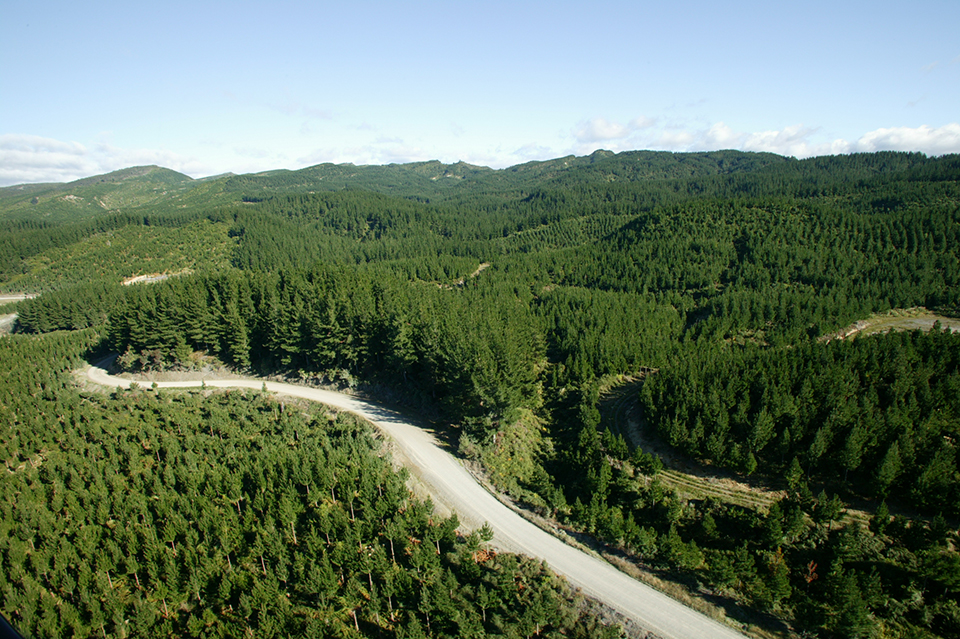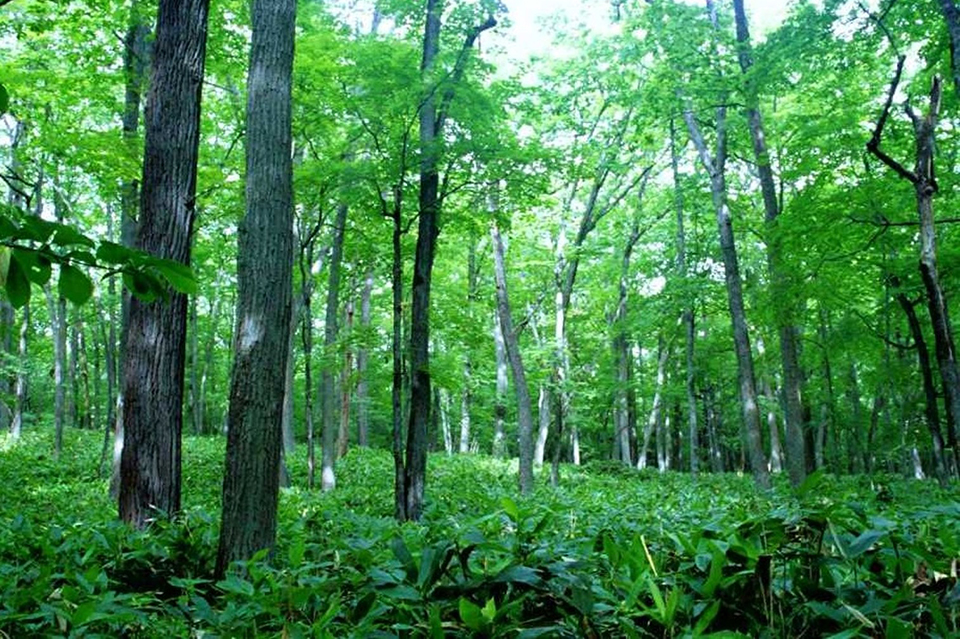 The GHG reduction by the internal carbon offset within the Oji group.
The average GHG emissions (SCOPE1 + SCOPE2) for FY2013-FY2019 was 7,650 kiloton-CO2e, and the average net increment in carbon stock* during the same periods was 1,122 kiloton-CO2e. In case of the internal carbon offset, the average net GHG emissions are estimated to be 6,642 kiloton-CO2e, and the average carbon offset reduction rate was -9.0%.
*

The net increment in carbon stocks, CO2 tons = the actual carbon stock in the current year – the actual carbon stock in the previous year.
The actual carbon stocks in living biomass in remaining production forest, CO2 tons = the actual merchantable volume m3 in the current year x Biomass expansion factor (1+ Root shoot ratio) 1.7 x Wood density 0.5 ton/ m3 x Carbon fraction of dry matter 0.5 x CO2 conversion factor 44/12.
Also, the actual merchantable volume m3 in the current year includes a biomass loss due to logging CO2 in the current year.
※

「3. Greenhouse Gas (GHG)」,「20. Changes in CO2 absorption and fixed amount by 440,000 ha of Oji Group production forest」