We would like to extend our sincere condolences to those who have lost their lives due to the COVID-19 and their families, and express our heartfelt sympathies to everyone who has contracted and is fighting the disease. We also would like to express our deep respect to medical health experts and the members of the government who are struggling every day to prevent the spread of the outbreak and maintain social infrastructure.

The Oji Group produces a variety of products essential for daily life, such as tissue paper, toilet rolls, face masks, non-woven fabrics and other hygiene materials, corrugated containers to support logistics services, folding carton products, and newsprint to communicate information. Amid the severe coronavirus crisis, we continue to engage in day-to-day production activities, while rigidly implementing anti-infection measures following local government orders, so that we can continue supplying these essential products. Back office personnel in our global affiliates work from home, attend workplaces in rotation and commute outside peak hours to accomplish their day-to-day duties while hugely reducing their opportunities for physically contacting people. We are united as one facing this unprecedented difficulty.

Businesses have responsibilities to the entire society. They do not simply conduct economic activities, but live together with society and have responsibilities to people living in it. The coronavirus crisis has no precedent in terms of the scale and expanse of its impact and neither businesses nor individuals are immune to it. While we feel gratitude for the actions taken by medical experts, to resolve the issues facing them, we have decided the new installation of face mask production facilities and increased production of the non-woven fabric that medical isolation gowns are made of. We strive to meet social demands by continuously making good use of the expertise of the Oji Group.
Asia
GSPP Holdings / Malaysia

Putting our efforts toward overcoming the COVID-19 coronavirus!

In Malaysia, the COVID-19 lockdown order has been in force since mid-March. This fully stopped non-essential business activities. GSPP once stopped its operations at all the plants in Malaysia, and restarted limited to essential businesses for daily needs. However, operations are still tightly restricted. In this situation, we are working as one to fulfill our social mission, providing containerboard and corrugated containers.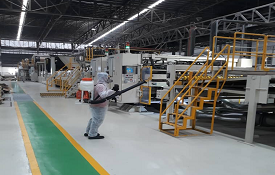 Oji Asia Household Product / Malaysia

The challenges faced during the COVID-19 pandemic

Malaysia has been locked down since mid-March. Our company is reducing the number of employees working on-site by promoting telework, web conferences, etc., and is frequently sterilizing workplaces and maintaining social distancing between workers. Making the prevention of COVID-19 infections our top priority, all our staff confront the coronavirus fully in their efforts to deliver as many Genki! disposable diapers as possible to the babies of Southwest Asia.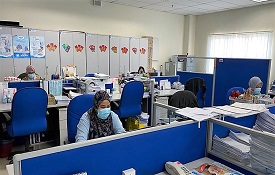 Oji Myanmar Packaging / Myanmar

Quick information distribution and thorough information sharing

We have created internal groups using SNS and is asking employees to report their health condition by a predetermined time through the SNSso that we can understand and share the health condition of all employees. In our country, where, compared to other countries, an adequate medical environment is not established, "Do not get infected," and "If infected, minimize secondary infections by reporting the infection immediately" are extremely important key phrases. All employees continue to keep their spirits up in the face of the pandemic, and are working toward the continuation of our business.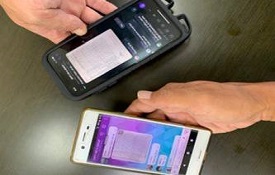 Oji India Packaging / India

Stay Safe, We will Win!

In India, the world's largest nation-wide lockdown had been in force, extended twice since March 25. Our company is continuing to operate with the minimum number of workers to produce corrugated containers for essential products such as medicines, medical supplies, and foods at two out of three plants in the north and west areas. During operations, the health and safety of employees is the highest priority, and we take special care to prevent infection by maintaining social distancing during work, checking the temperatures of the people who enter our premises, supplying masks, sterilizing the workplaces, and other measures.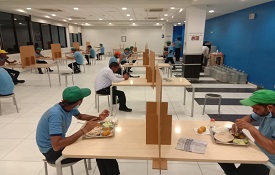 Oji Paper(Thailand), OJI Label(Thailand) / Thailand

Working together to surmount this unprecedented crisis!

A state of emergency was declared in Thailand on March 26 and all stores excluding those dealing with essential items have since been closed. Since early March, we have been strictly checking the temperatures of those entering the premises and ordering them to wear masks, even though the outdoor temperature is around 40 ℃. We introduce additional anti-infection measures as necessary, and ensure that they are known and followed by all concerned. Besides, we revise work flows, advise staff at the Bangkok Office to work from home and conduct meetings online to continue our business operations without delays.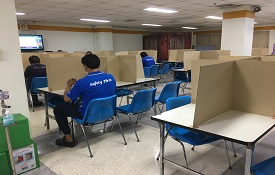 Ojitex (Vietnam), United Packaging / Vietnam

For the continuation of safe operations

The Vietnamese government restricted entry to the country in mid-February and locked down cities in late March. Though plants were allowed to continue operations regardless of business category, 10 strict restrictions (each restriction evaluated on a scale of 1 to 10 points, for a total of 100 points), including a limitation on the number of workers per square meter, were enacted as conditions for continuing operations. Therefore, we must fall below the maximum score allowing plants to continue operating. Fortunately, with the cooperation of all employees, we successfully passed the audit and are able to continue operating stably.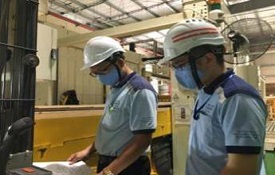 North America
Kanzaki Specialty Papers / U.S.A

An infrared thermography system introduced to combat the spread of infection

As the news about the COVID-19 coronavirus overwhelms us, it is now very common to see people wearing face masks in the United States, which used to be rare. Amidst this, our company introduced an infrared thermography system to check people's temperatures before they enter the premises so that employees and others who have fevers would be prevented from entering. We hope that the United States will be back to normal very soon, without people wearing masks on the street as soon as possible.