Curtailing Emissions of Chemical Substances in Exhaust
Management of Compliance with Regulatory Values
The Oji Group owns a number of thermal-fired electric power generating plants. The electric power and thermal energy obtained through direct combustion of fossil fuels, waste fuels, and renewable fuels is used internally and provided to local communities.
The Group has set voluntary management standards that are stricter than the regulatory values with regard to the atmospheric release of the chemical substances produced through direct combustion. In cases where voluntary standards are exceeded, suspension of operations and other measures are taken for the prevention of pollution.
Exhaust Purification Targets and Results
The FY2019 targets for exhaust purification were as follows.
Reduce SOx (*1) emissions intensity by 1% compared to the previous year
Reduce VOC (*2) emissions intensity to below the FY2010 level (plants that handle volatile organic compounds)
Both targets were achieved.
The target achievement rates relative to the reference year (2013) were 119% for SOx and 191% for VOC.
Reduction Target Progress
Notes:

SOx emissions are calculated by converting to SO2.
VOC emissions intensity covers Japan only.
Status of Reductions in Chemical Substances in Exhaust
Emissions of chemical substances and dust are reduced through technological advances in combustion boiler structure, desulfurization facilities, dust collection facilities, and other areas and use of operational technologies.
The Group makes continuous operational improvements and performs rigorous management of equipment for reducing substances of environmental concern and will continue to implement measures for the prevention of pollution and work towards achieving the FY2020 targets.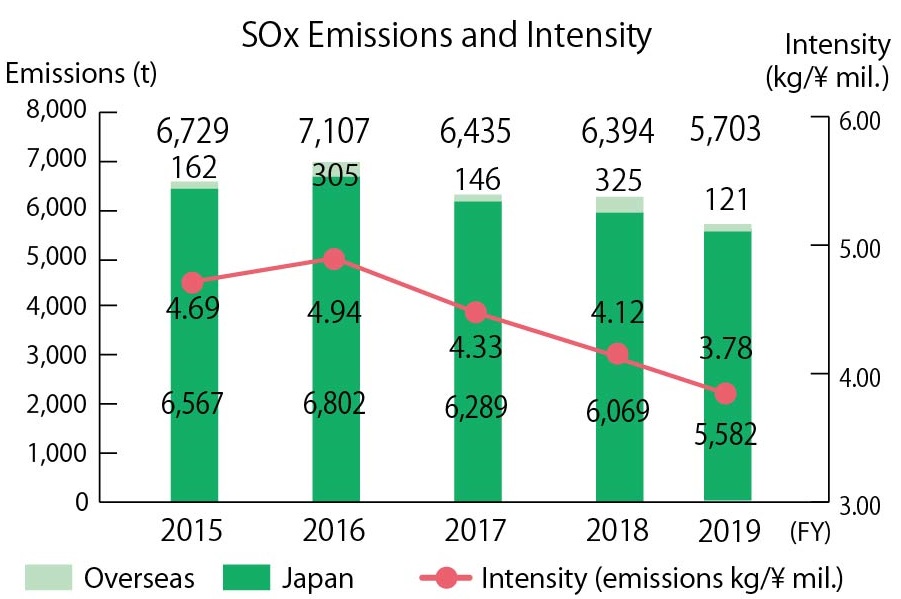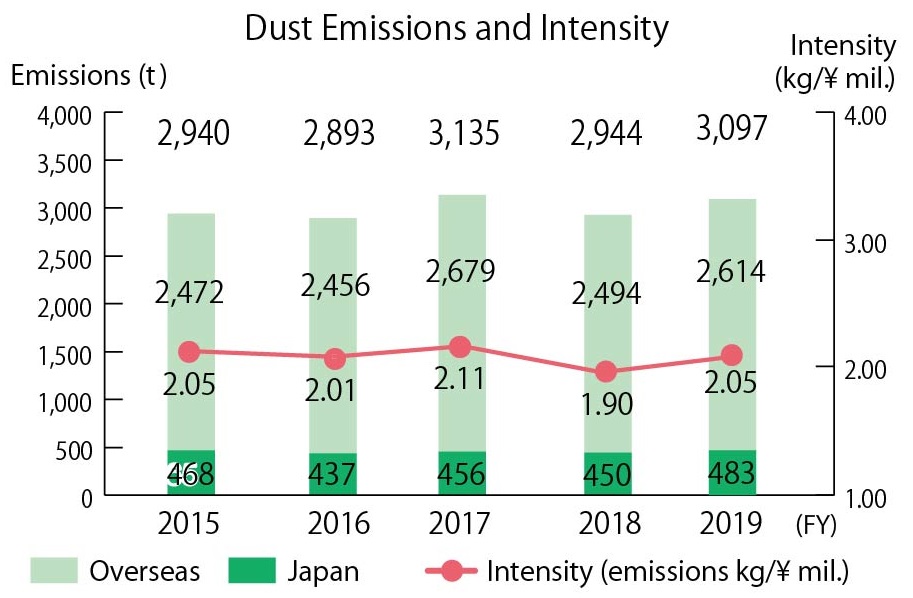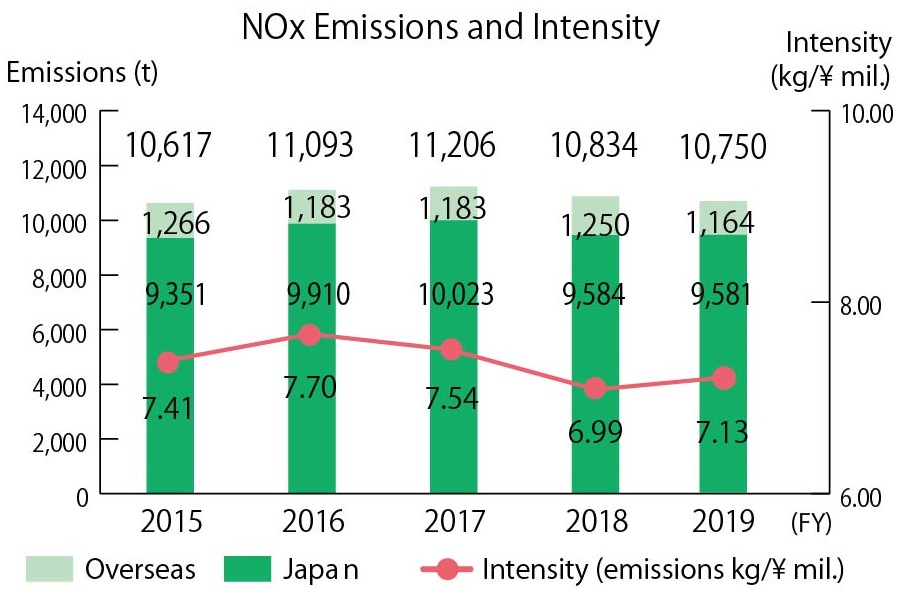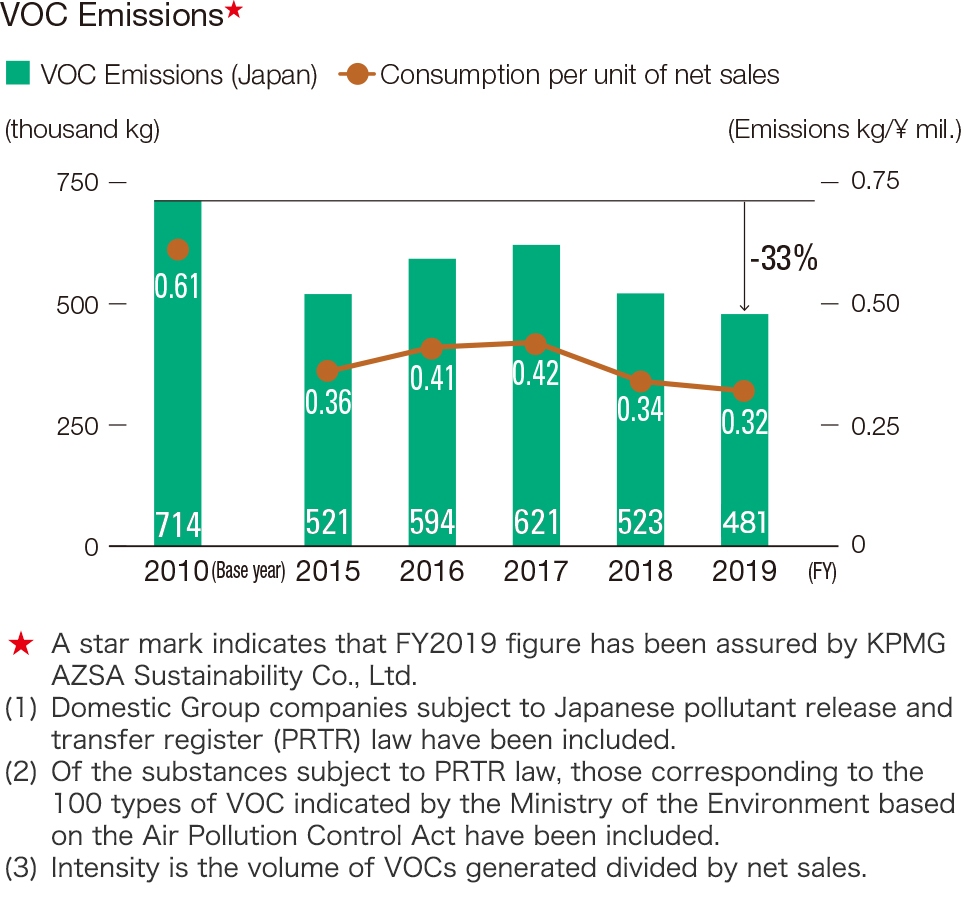 Volatile organic compounds (VOC) are said to be a cause of photochemical oxidants. VOC is the collective name for organic compounds that are volatile and change into a gaseous state in the atmosphere. A wide variety of substances exist as VOC, including toluene, xylene, and ethyl acetate. Until 2010, the Oji Group had been reducing VOC emissions by using combustion facilities and absorption facilities. Since then, our target for each year has been to maintain the 2010 level of VOC emission intensity per sales (0.61 kg of emissions/million yen). As a result, we have maintained the 2010 level of VOC emission intensity since 2013 as well.