Promoting the active participation of women
Career development for female employees on the generalist track, practical development support for personnel in all positions, and various other measures are being undertaken, with the aim of raising the percentage of female managers to 5.5% by March 31, 2025.
Our target for the percentage of women in management-level positions, an indicator for the promotion of active participation of women, and our current status are shown below. (As of the end of March each year)
Percentage of Women in Management Positions (Japan)
Oji Group's target(as of the end of March 2025) set by Diversity Promotion Committee
(for 16 Oji Group companies)
5.5%
We provide training on mind change and management skills;
Training for pre-management female employees on the generalist track
Career design training for young female employees on the generalist track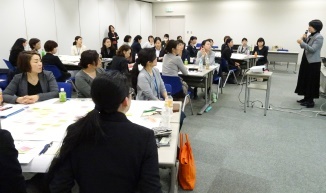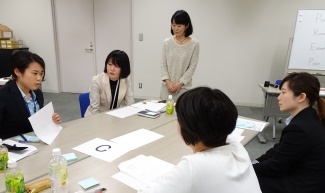 Promoting Recruitment of Disabled Persons
Oji Group established a special subsidiary in 2007 to promote the recruitment of disabled persons. Employees perform management and cleaning of common areas in the Head Office Building and laboratory (Shinonome). The Group formulated a Three-Year Disabled Persons Employment Plan in FY2018 to promote the recruitment of disabled persons throughout the Group. The Group will continue working to expand employment opportunities for persons with disabilities.
Technical Internship Program for Foreigners
The Group recruits a large number of foreign technical interns from countries such as Vietnam and Thailand in its corrugated container and folding carton processing businesses. The internships are run appropriately based on an internship program.