The Oji Group owns and manages 190,000 hectares of forests in Japan. This total area is among the largest of all forests owned by private corporate entities. The Group initially owned forests for producing raw materials for paper, but policy was subsequently changed to production of raw wood for lumber and environmental contribution through forest management.
At present, the area of company-owned planted forest (forest plantations) in Japan is approximately 80,000 hectares, constituting 41% of all company-owned forests. The Group plants Sakhalin fir, larch, and other varieties in Hokkaido, and cedar, Japanese cypress, and other trees on Honshu and southward. The average age of these trees are about 60 years and are approaching the time for harvesting. The Oji Group manages its forests sustainably by utilizing forest resources (harvesting mature trees and replanting trees to rejuvenate forests) while also continuing tending operation such as thinning (enhancing resources for future generations).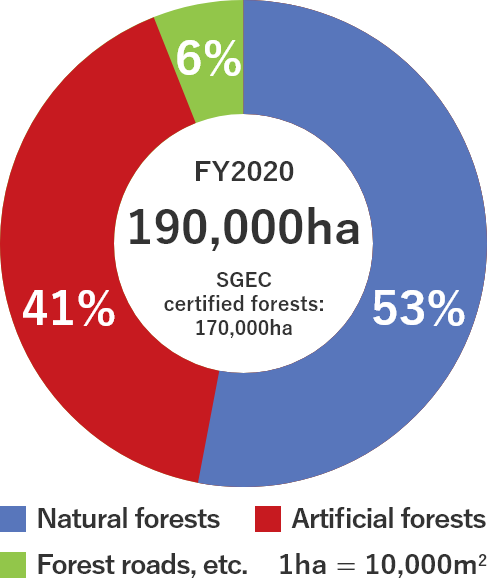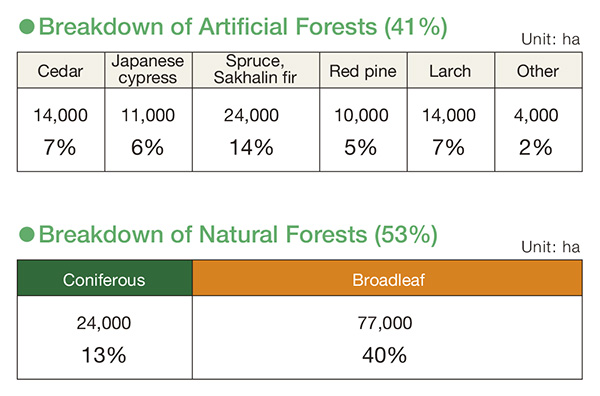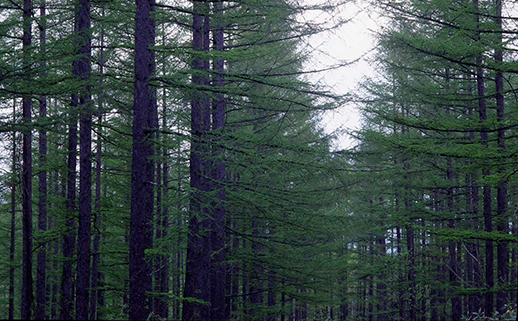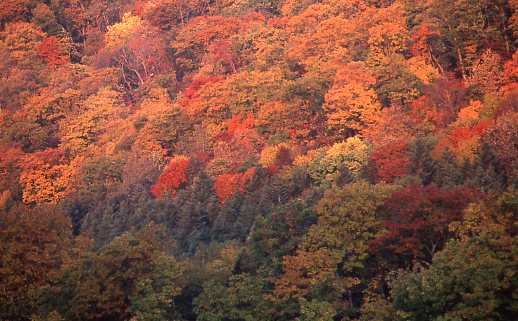 Forests are a reproducible and sustainable resource that can be planted, grown, harvested and re-planted. The Oji Group has developed cyclic forest resource businesses, and promotes the effective utilization of forests as a comprehensive forestry business group, in order to harness the full potential of the wood it harvests, leaving none to waste.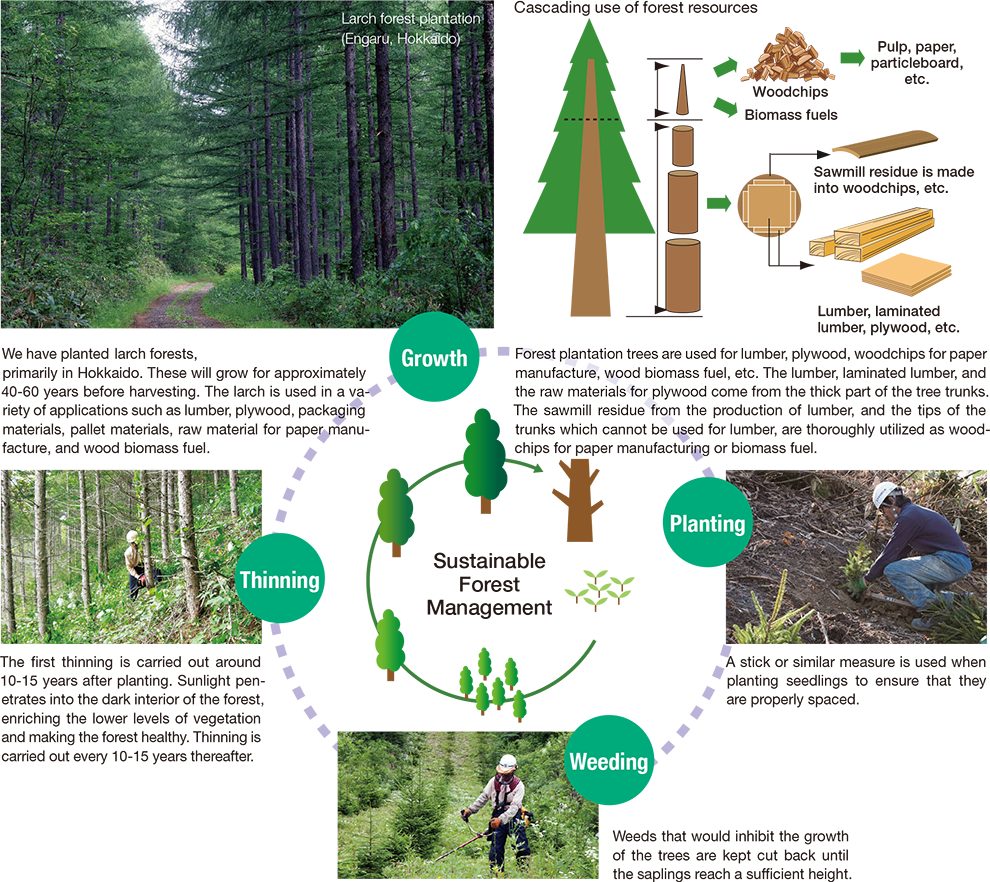 Acquisition of SGEC Forest Certification
SGEC*1forest certification is a forest certification program*2 unique to Japan that is operated by the Sustainable Green Ecosystem Council (SGEC). The Oji Group began acquiring SGEC forest certification in December 2003 with the Kami-Inako mountain forest in Shizuoka. To date, we have acquired SGEC forest certification for 330 company-owned forests in Japan, excluding profit-sharing forests, with a total area of 173,000 hectares. It is the largest area of certified forests among those of private companies in Japan. In fiscal 2016, SGEC signed a mutual recognition agreement with the Program for the Endorsement of Forest Certification (PEFC*3), an international organization. This has made SGEC forest certification an internationally viable certification program.
*1

SGEC Sustainable Green Ecosystem Council

*2

Forest certification
Forest certification is aimed at sustainable forest management. An independent, third-party organization certifies a forest by examining it to see whether it is managed well in accordance with specific standards.

*3

PEFC Program for the Endorsement of Forest Certification
Sustainable Forest Management and Social and Environmental Contributions
Forests are closely related to our lives. It is important to maintain extensive forests in Japan while making effective use of them.
The Oji Group considers it necessary to encourage cooperation among people engaged in mountain forest management and users of lumber. Accordingly, the Group provides raw material including lumber, plywood, paper, biomass fuels, and other products to companies both inside and outside the Group as a part of efforts to revitalize Japan's forestry industry and ensure a stable supply of domestic lumber.
The Group also manages forests by giving full consideration to environmental contribution as the social responsibility of a company that owns forests. The Group takes initiative to ensure that Group forests meet a range of functions, including support for activities to protect Japanese huchen, fairy pitta, and other endangered species and hosting the Oji Forest Nature School.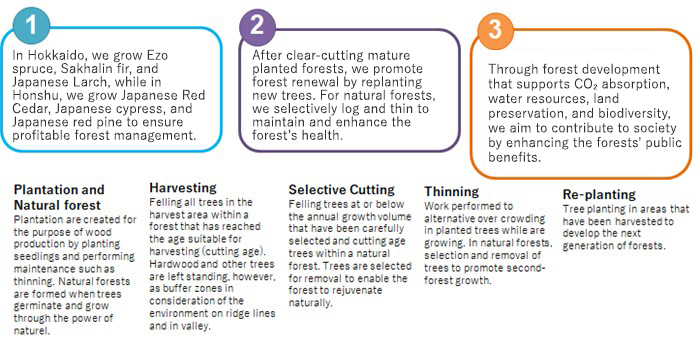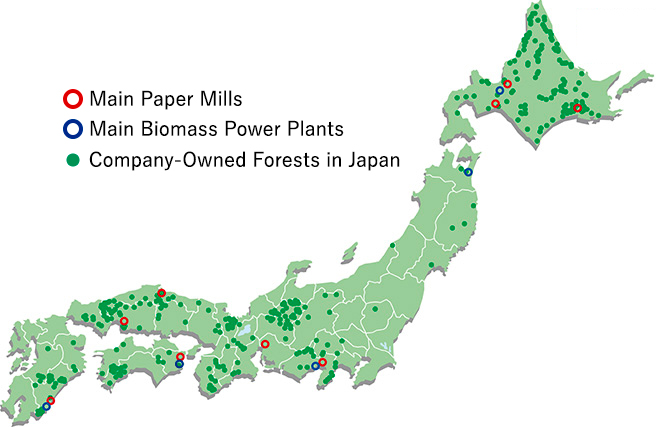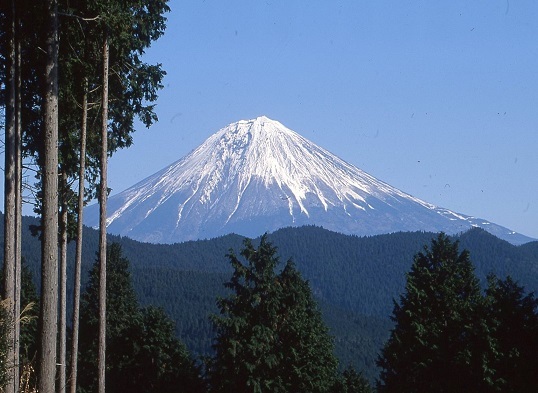 Efforts in company-owned forests in Japan
In the company-owned forests in Japan, it takes approximately 60 years for seedlings to grow until it is harvested. Final harvesting and replanting operations in approximately 500 ha of our forests are almost all performed by humans, requiring 13,000 workers every year just for planting and weeding. To reduce this workload, we transport seedlings using drones, plant fast-growing Chinese fir that are expected to reduce the frequency for weeding must be done and conduct weed control tests on cover crops to suppress weeds.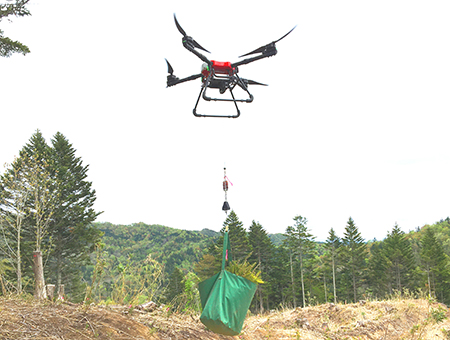 Planting of fast-growing trees Chinese fir Koyasan
In the Kamiinako Company-owned forest (Shizuoka Prefecture), we planted the Chinese fir "Cunninghamia" as a trial which is an exotic species native of China (introduced in the Edo period (1603-1868)). Chinese fir promises to have the following effects;
growing twice as fast as Japanese cedar,
has higher Material strength than Japanese cedar,
No need for replanting due to coppicing from stumps, and
Reducing weeding frequency and tending cost due to being faster growth.